Goldmund Luxury Audio at ILIAD
---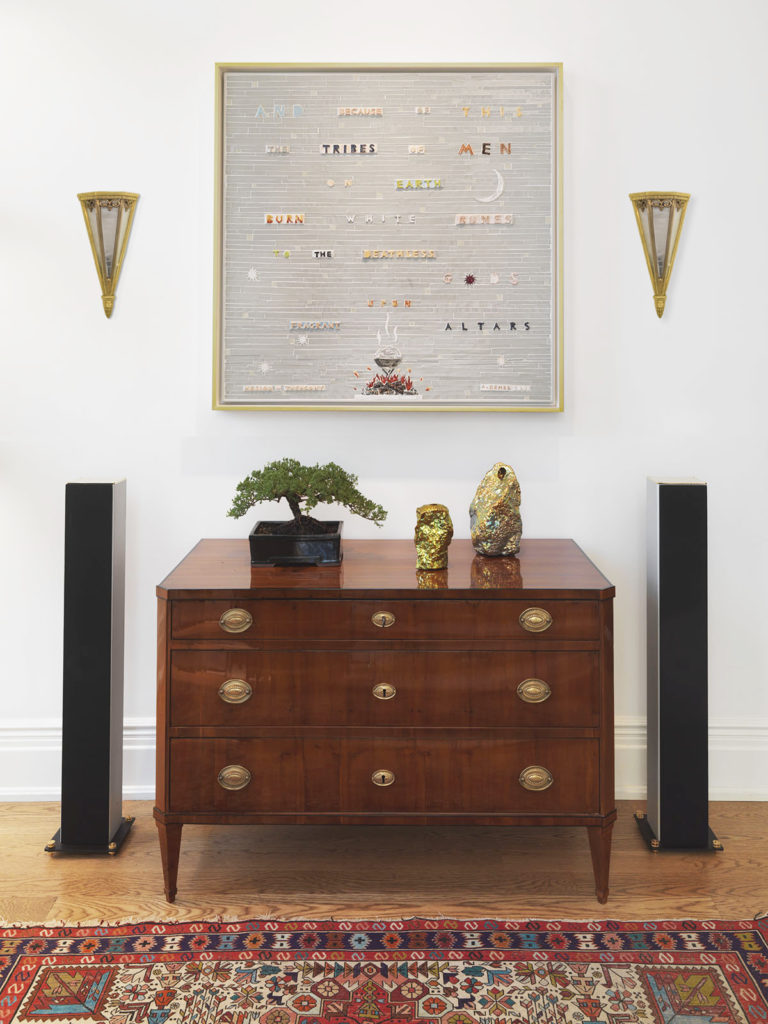 Art, industry, and imagination have conspired to transform the cosmopolitan ethos to what's become the ultimate multi-media showcase and creative lifestyle environment downtown. Wedding epic experience to exuberant vision, where the transcendence of precision audio segues with modernist aspiration and superlative design – ILIAD is thrilled to represent GOLDMUND LUXURY AUDIO, presenting their Swiss engineered world-class wireless audio systems at our urban sophisticate loft residence on Broadway. Trending contemporary – living, working, impeccably with fresh and intelligent design, ILIAD's Flatiron studio is the quintessential collaborative design/lifestyle space for industry professionals and a destination for discerning clients. 
GOLDMUND represents the ultimate in audiophile products and has developed luxury lifestyle lines that provide unique performance while simplifying customers' lives through wireless technologies offering extreme performance, precision milled cabinet design and customized finishes, customized software programming, and wireless solutions.
Framed by iconic cityscapes, skyline vistas, and contemporary art that emancipate the senses, what better way to present luxury audio to a New York audience. Celebrated internationally for their unique industrial speaker designs, acoustical accuracy, and sonic transparency, GOLDMUND's famed APOLOGUE speakers were so consummate, they were acquired by New York's Museum of Modern Art and are part of the permanent collection at MOMA. With unique quality recognized worldwide by audiophiles and enthusiasts, systems like the GOLDMUND APOLOGUE stand forever as a major milestone in audio history.  In collaboration with with Bob Visintainer of GOLDMUND New York, ILIAD presents a range of GOLDMUND lifestyle products and classic GOLDMUND designs.
---
Contact Goldmund at Iliad to discuss your multi-media and home entertainment needs.  Bob Visintainer has been creating luxurious audio environments in clients homes for more than 30 years. Bob is available to discuss your home lifestyle environment and what type of audio-video-home automation products are best suited to your needs.
Goldmund @ ILIAD
Contact: Bob@iliadny.com
Phone: 646-869-6289
Goldmund Systems Available at ILIAD
---
---
About Goldmund
Founded in 1978, GOLDMUND has set the standard for ultra-luxury audio products worldwide by allying the most advanced technologies to the utmost quality of materials and customized services.
Based in Geneva, the company's exceptional product design is matched by its industry-leading commitment to fundamental research in audio performance. Employing a team of electro-acoustic engineering experts, GOLDMUND has developed and introduced industry firsts such as home wireless music distribution, DVI output, mechanical grounding, thermal grounding, extreme multichannel processing, and more.
At the forefront of today's luxury audio marketplace, GOLDMUND'S illustrious history includes now mythic product lines such as the Reference II turntable – the world's most expensive turntable, the Telos 5000 limited series 5000 watt amplifier, the Eidos Reference Blue – the most luxurious universal player, and the GOLDMUND Media Room – a revolutionary customized Home-Theater solution. Paying tribute to their iconic design with a series of 25 pairs in a Limited Anniversary Edition and priced at just under $600,000, the release of GOLDMUND's 25 year APOLOGUE Anniversary edition perfectly illustrates this evolution.
---